Biofeedback Therapy: The Future of Mental Health
Now Available at GenPsych Livingston
Appointments: (855) 436-7792 | Request Form
For more information on GenPsych's Biofeedback Program, e-mail info@genpsych.com.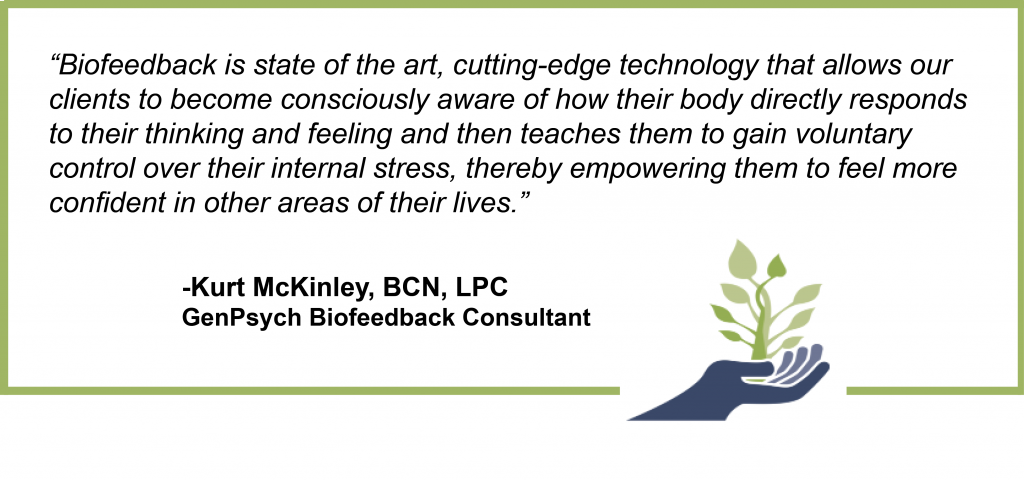 Biofeedback therapy is available to adult clients in all program tracks during their treatment. A biofeedback session can last between thirty minutes to an hour, and is individualized based on the client's needs.
Biofeedback is effective in assisting clients who experience stress and anxiety, eating disorders, substance abuse, and other physical and mental health issues.
What is Biofeedback?
Biofeedback is a non-invasive, painless therapy where clients are hooked up to sensors that monitor any physiological reactions that are experienced during stress or other mental/emotional triggers.
"Biofeedback is a cost effective treatment modality with no significant side effects, which leads to reduction of disability, function improvements, reduced medication use, decreased utilization of medical services, increased self-reported patient efficacy, and high levels of patient satisfaction." -Jonathan E. Walker, M.D., BCN, Board-Certified Neurologist, Neurotherapy Center of Dallas, Inc.
How does Biofeedback Work?
Using interactive audio and visual feedback screens, clients are able to see how their body responds to stressful thoughts and feelings and thereby learn how to reduce these stress responses as they practice relaxation strategies, meditation, paced breathing, peaceful imagery, and other skills and techniques learned in program.
During individualized biofeedback sessions, clients learn how to better control these reactions, enabling them to respond to formerly stressful situations with greater relaxation, and empowering them with increased self-awareness, self-confidence, and autonomy.
For additional resources on biofeedback from the Applied Association for Psychophysiology and Biofeedback (AAPB), click here. 
For GenPsych admissions, call (855) 436-7792 or fill out our online appointment request form here.